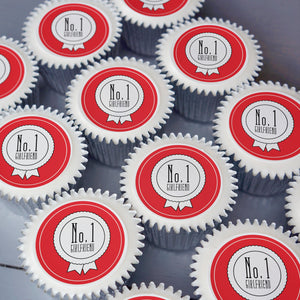 Number 1 Girlfriend Cupcake Gift Box
Regular price £14.95 Sale
Send these cupcakes to congratulate your other half on being awesome. Amazing gift idea for your girlfriend. Ideal for Valentine's Day, your girlfriend's birthday or just because! They are sure to get you lots of brownie (or rather cupcake) points.
Our tasty cupcake gift boxes can be sent directly to your girlfriend to give her a lovely surprise, or straight to you. Make sure you add the correct UK delivery address at checkout.
Tip! Don't forget to add a gift note at checkout. It will be printed on a lovely postcard for your girlfriend to see when she opens her cupcake gift box.
Our cupcakes are sent in extra special packaging to ensure they get to their destination in perfect condition. The cupcakes are baked in foil cases to keep them extra fresh, but they are best eaten within 5 days (which we don't think will be a problem!). Please remove all the packaging when you receive them and don't store them in the fridge. In general you should never store cakes in the fridge unless they have fresh cream. The refrigerator dries cake out and nobody likes a dry cake do they?!
Don't forget you can also Design Your Own personalised cupcakes with our easy to use cupcake tool. Upload photos, messages and images, and add fun designs to create a truly personalised gift.