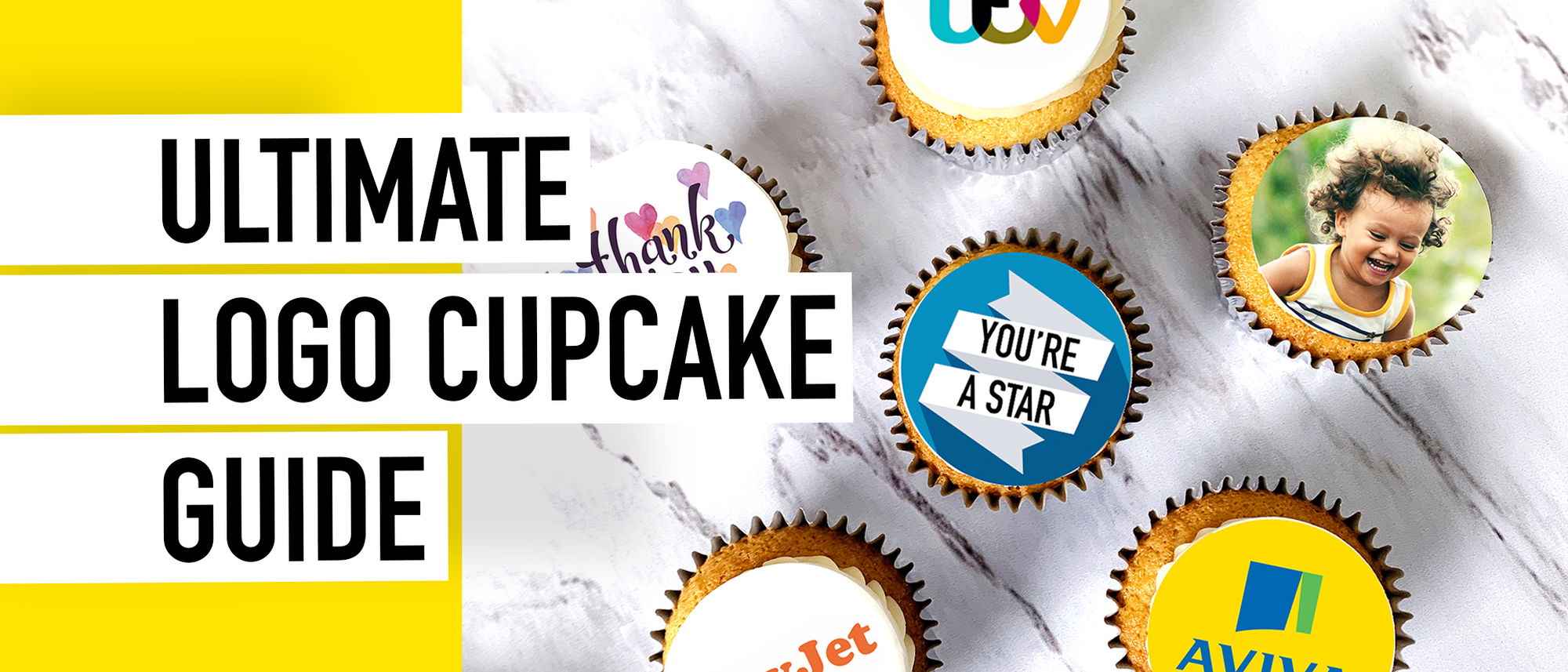 NOT ALL CUPCAKES ARE CREATED EQUAL
7 THINGS TO KNOW BEFORE ORDERING LOGO CUPCAKES
⭐️ WHAT'S YOUR WHY?
We're guessing you're not just sending cupcakes for the fun of it. There's a goal and cupcakes are the answer. But be warned, most people can spot a cheap cake a mile off. If your goal is to build trust or show employees they are valued, make sure you invest in a quality treat that delivers.
⭐️ BE INSTA READY
Your logo cupcake will likely be shown off on social media, make sure they are dressed the part. There's no filter that can fix a sad looking cake. Get your clients and customers raving about you!
⭐️ ARE THEY HAND MADE?
And we're not talking pouring ready made mix into a mixer. There's a world of difference between a cupcake made from scratch and one that's just had some oil added to a packet mix. Like most things in life, it's worth the extra effort.
⭐️ REAL BUTTER BUTTERCREAM?
Let's be blunt... there is no substitute for butter in a buttercream. Go real or go home. They either get an ok treat, or one they will rave about. We know which we'd choose.
⭐️ LET'S TALK PRINT
Claggy rice paper with a washed out logo is not where you want to be. You need a bold print and a tasty one at that. Sugarpaste toppers is always the best choice.
⭐️ FOIL CASES, NOT PAPER.
The word makes us squirm a bit, but MOIST is what you're after. Foil cases keep cupcake as fresh as if they'd just popped out the oven.
⭐️ HAPPINESS GUARANTEED?
Will they put their cupcakes where their mouth is? At Print Cakes we have a 100% Happiness Guarantee, or your cakes are FREE. We know how important your events, time and peace of mind are. We always do everything in our power to ensure they are a roaring success!
WHICH ONE WOULD YOU PICK?
(Hint... it's the one on the left 😂)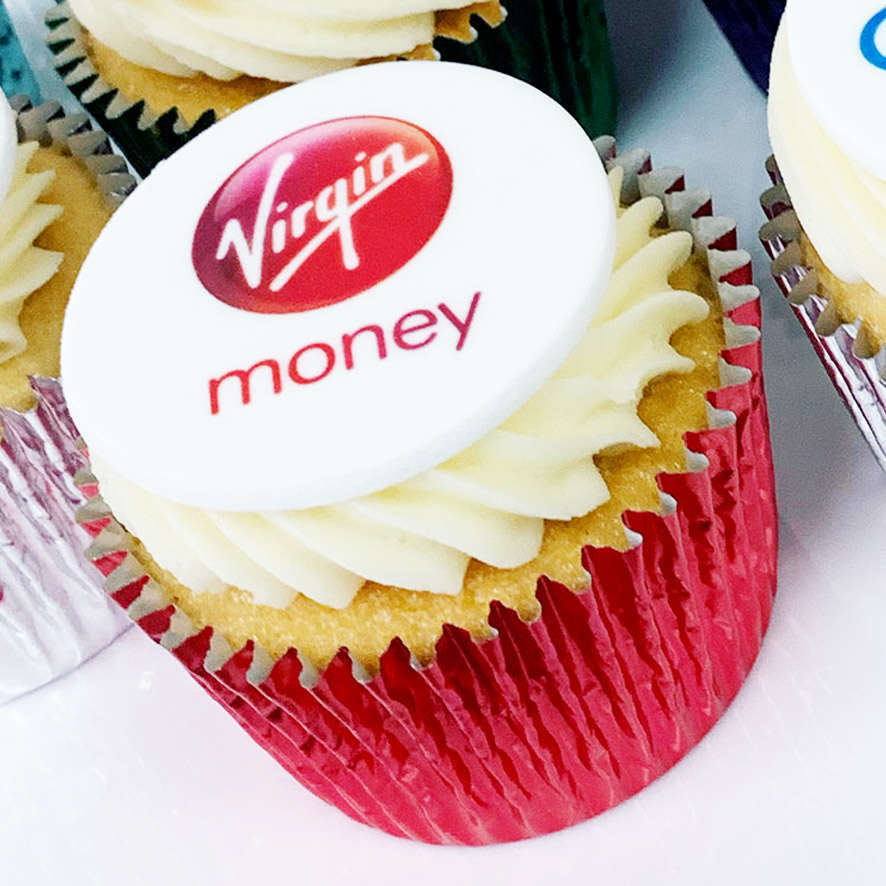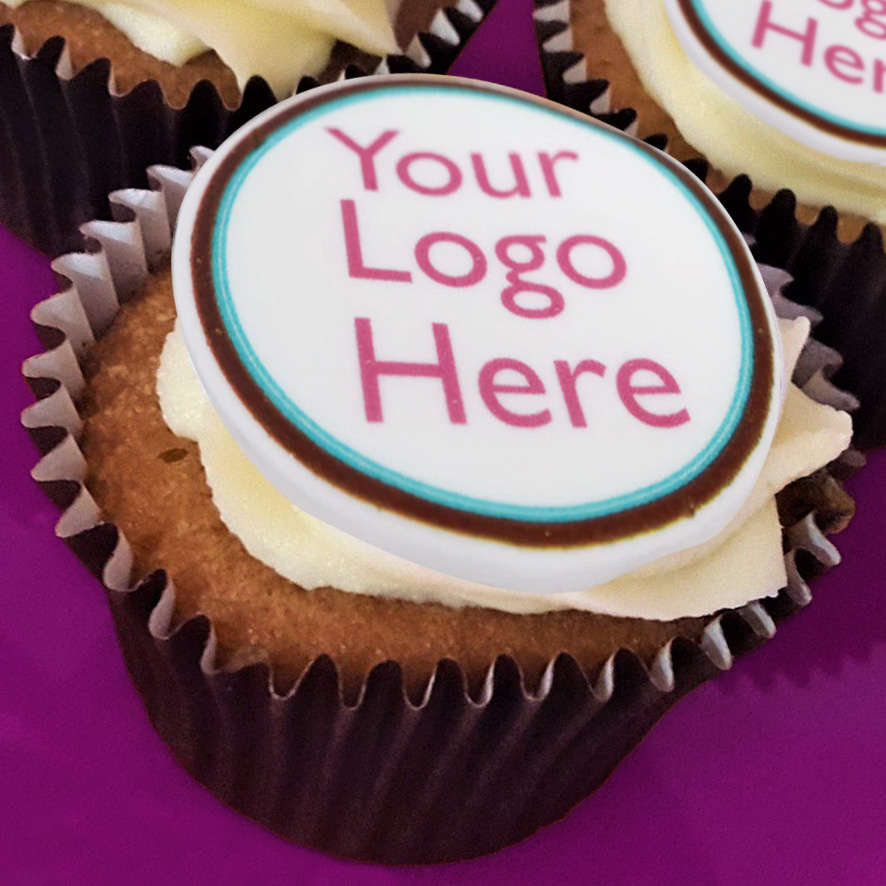 ✅ Real Vanilla Extract
✅ Moist Sponge
✅ Crisp Logo
✅ Real Butter Buttercream
✅ No Nasty Ingredients
✅ Clients & Customers Singing Your Praises
❌ Synthetic Flavourings
❌ Dry Sponge
❌ Poor Printing
❌ Margarine Frosting
❌ Preservatives
❌ Nothing to write home about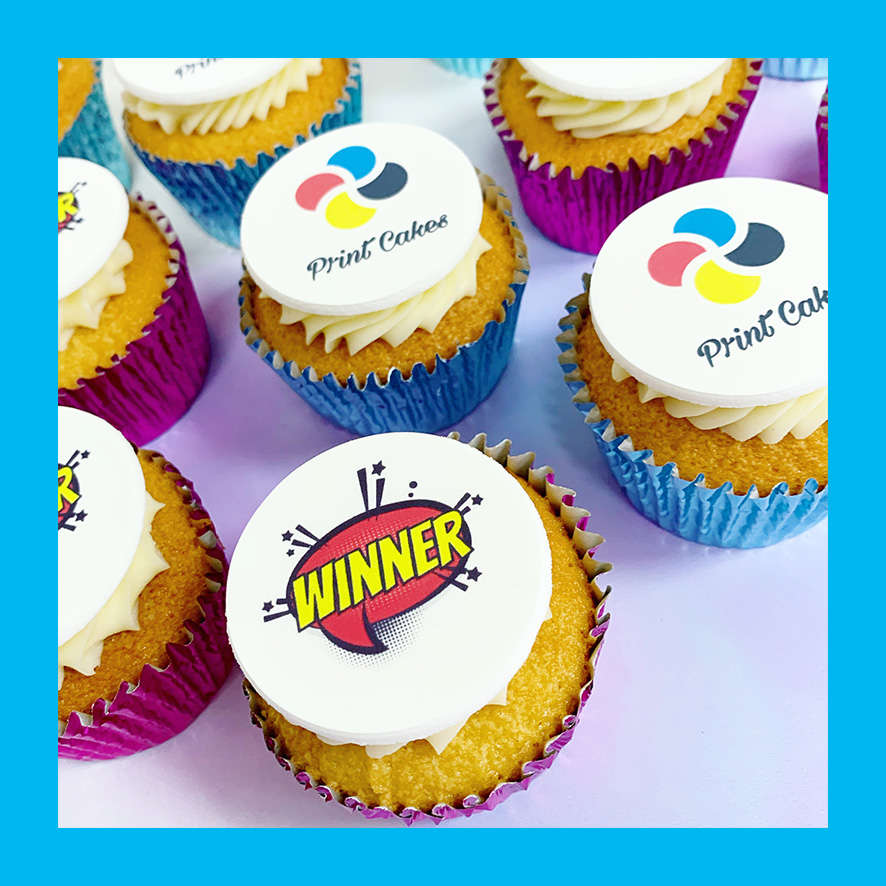 LOGO CUPCAKES
THAT TICK ALL THE BOXES
Print Cakes has over 10 years experience, so you're in safe hands. Our team will ensure your event goes without a hitch - think clients singing your praises and colleagues high-fiving you in the office.

We're so confident your team, clients & customers will LOVE their logo cupcakes, we have a 100% happiness guarantee or your cakes are FREE.

UK WIDE DELIVERY
LOGO CUPCAKES YOUR WAY
⭐️ UK Wide Delivery
⭐️ Always Made From Scratch
⭐️Always Real Butter Buttercream
⭐️Vegan Logo Cupcakes
⭐️Gluten Free Logo Cupcakes
⭐️ Send To Multiple Locations
⭐️Premium Logo Discs
⭐️Individual Packaging On Request
⭐️ Fully Recyclable Packaging
⭐️Carbon Neutral Delivery
⭐️ Fast Turn Around
⭐️ Free Artworking
⭐️ Plus Many More Products Including Letter Box Treats
STILL NOT SURE?!
CHECK OUT OUR AWESOME REVIEWS 👇
(It's enough to give us a big head)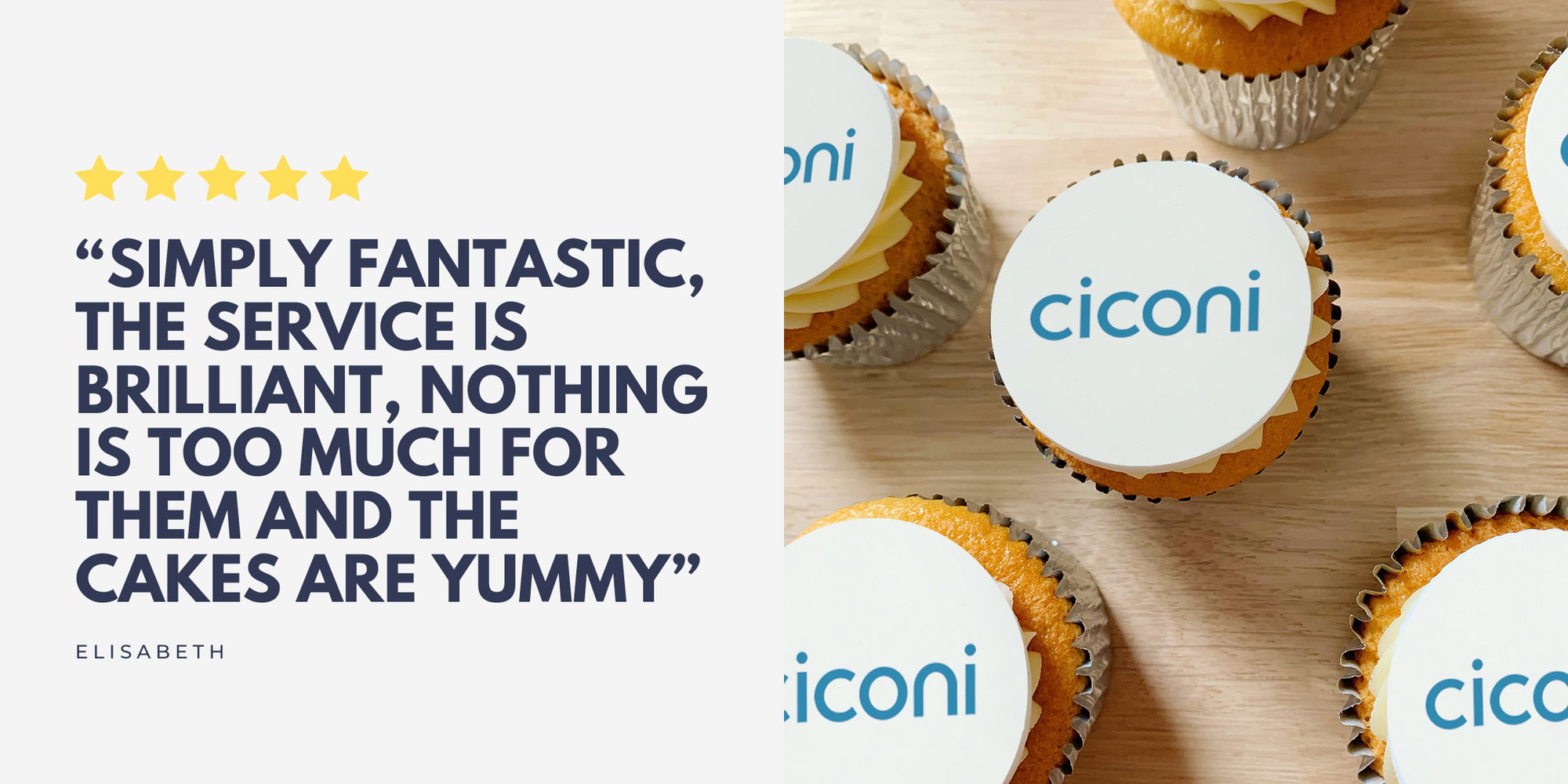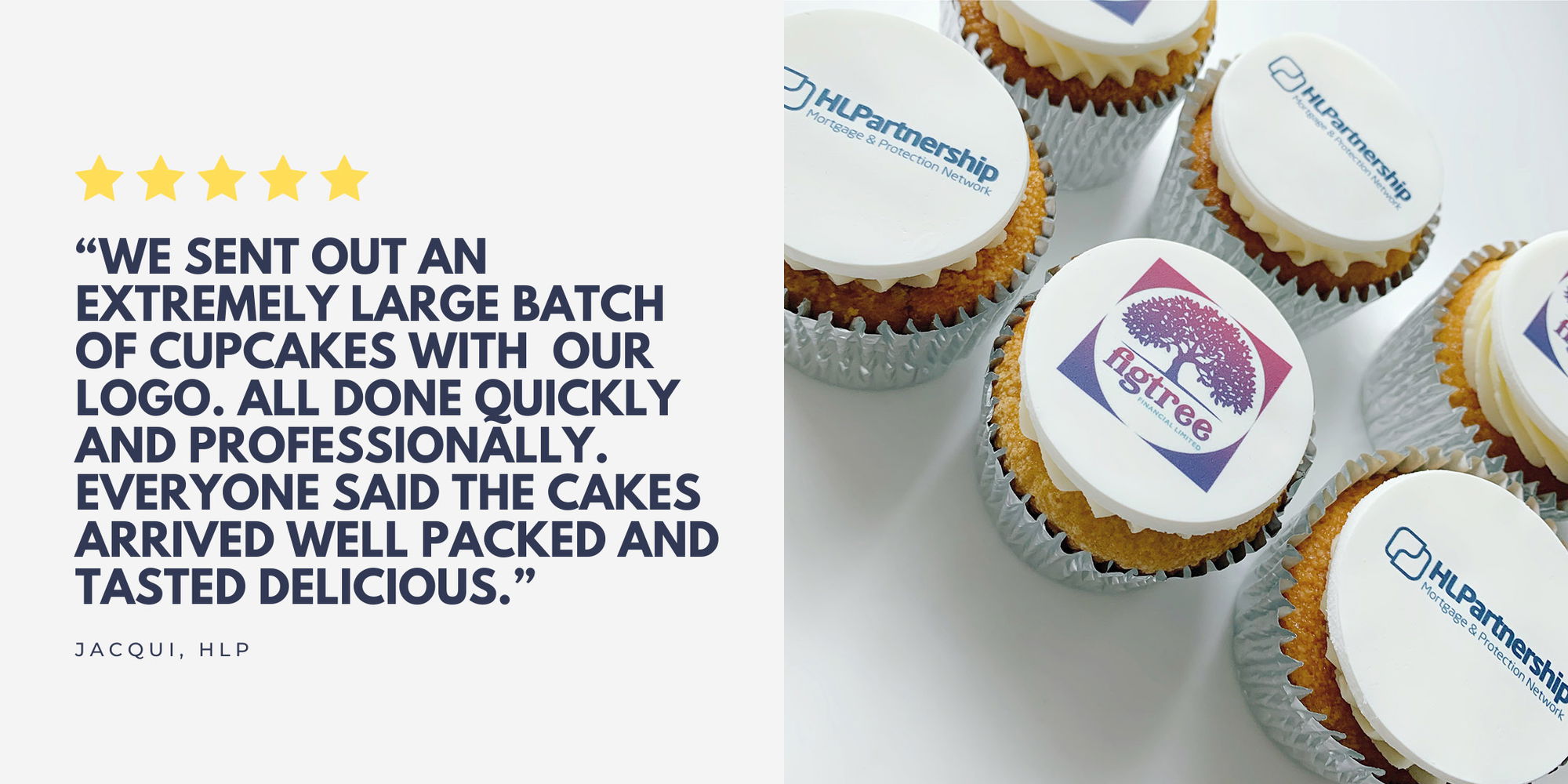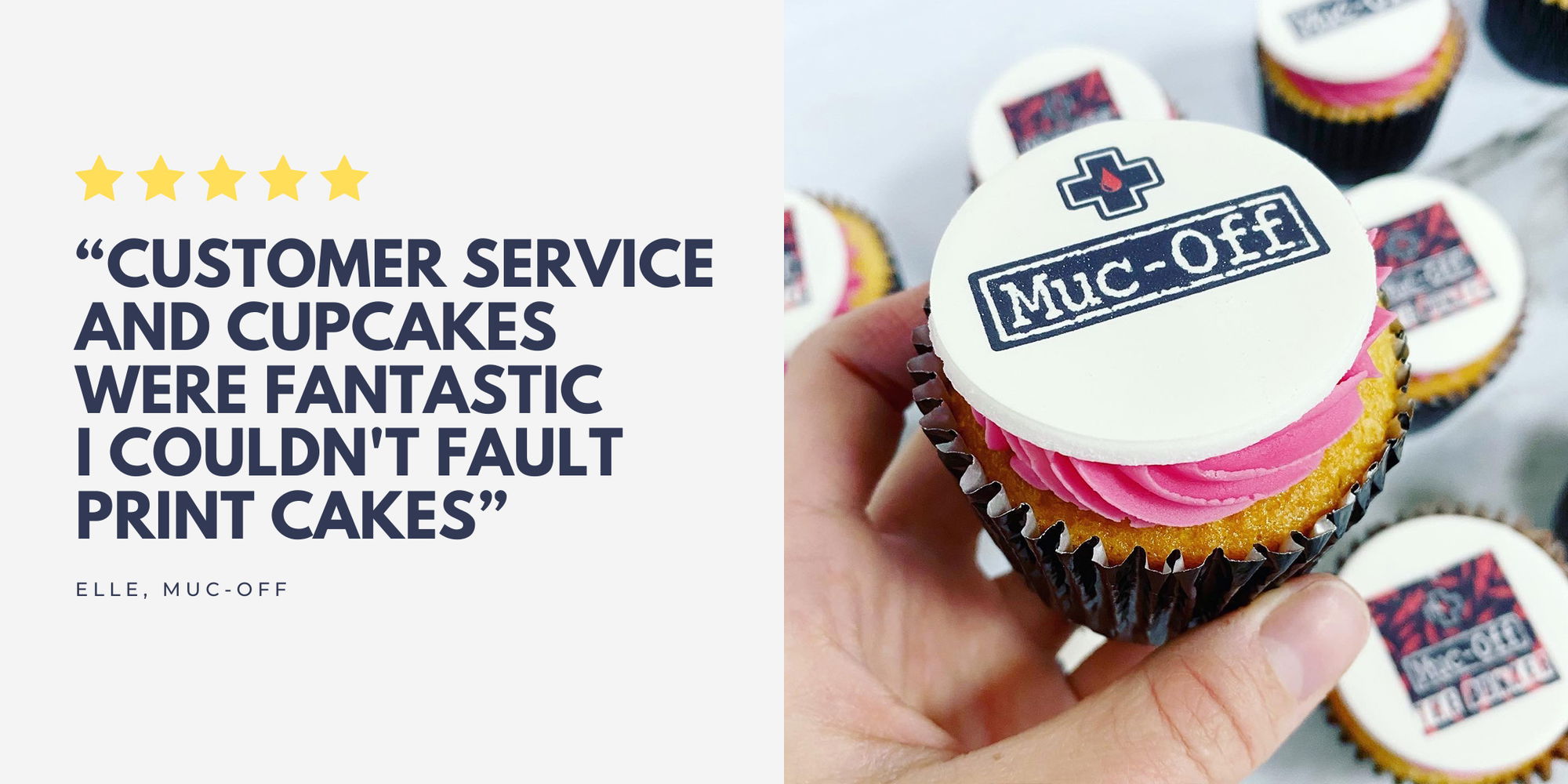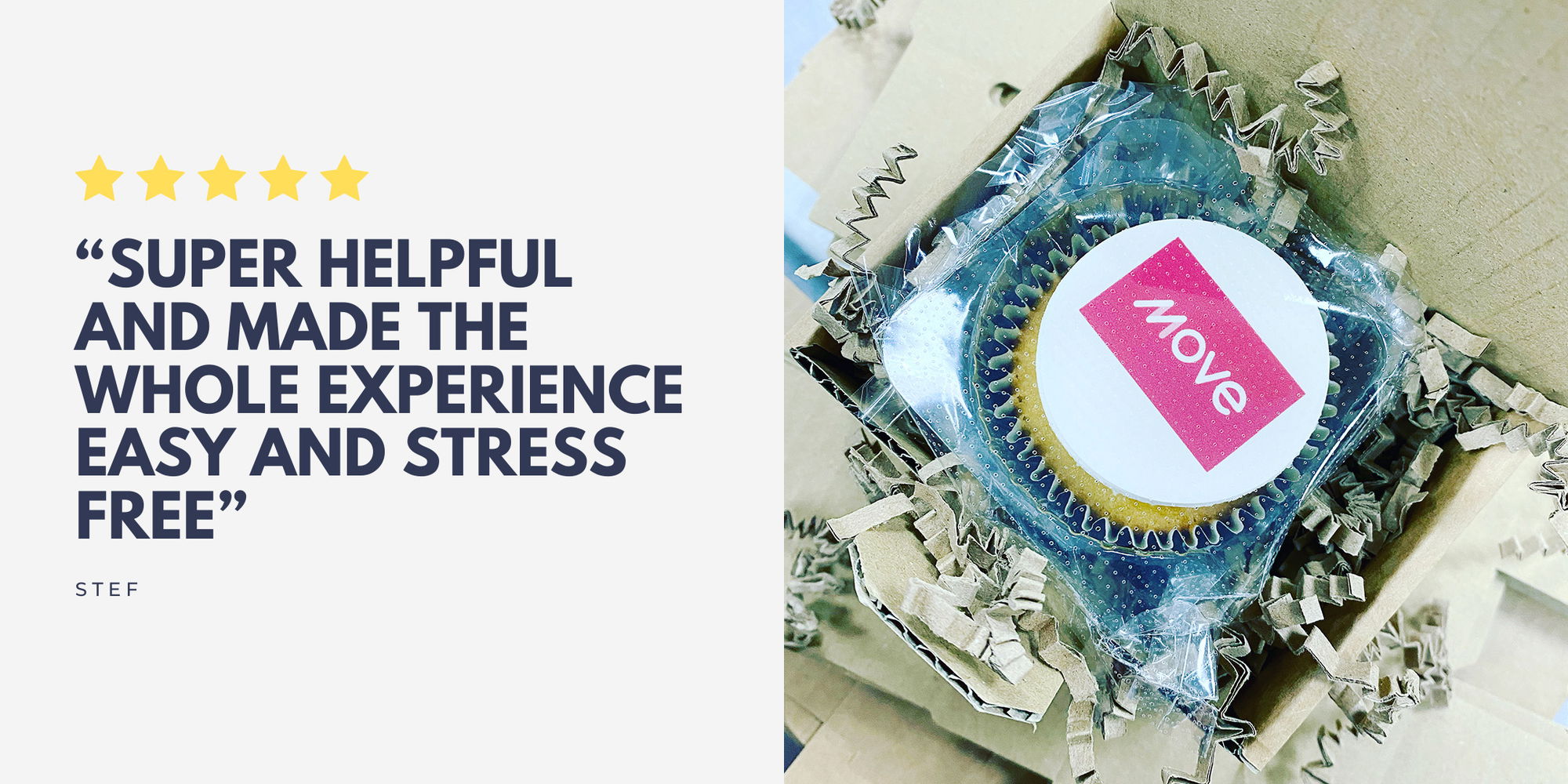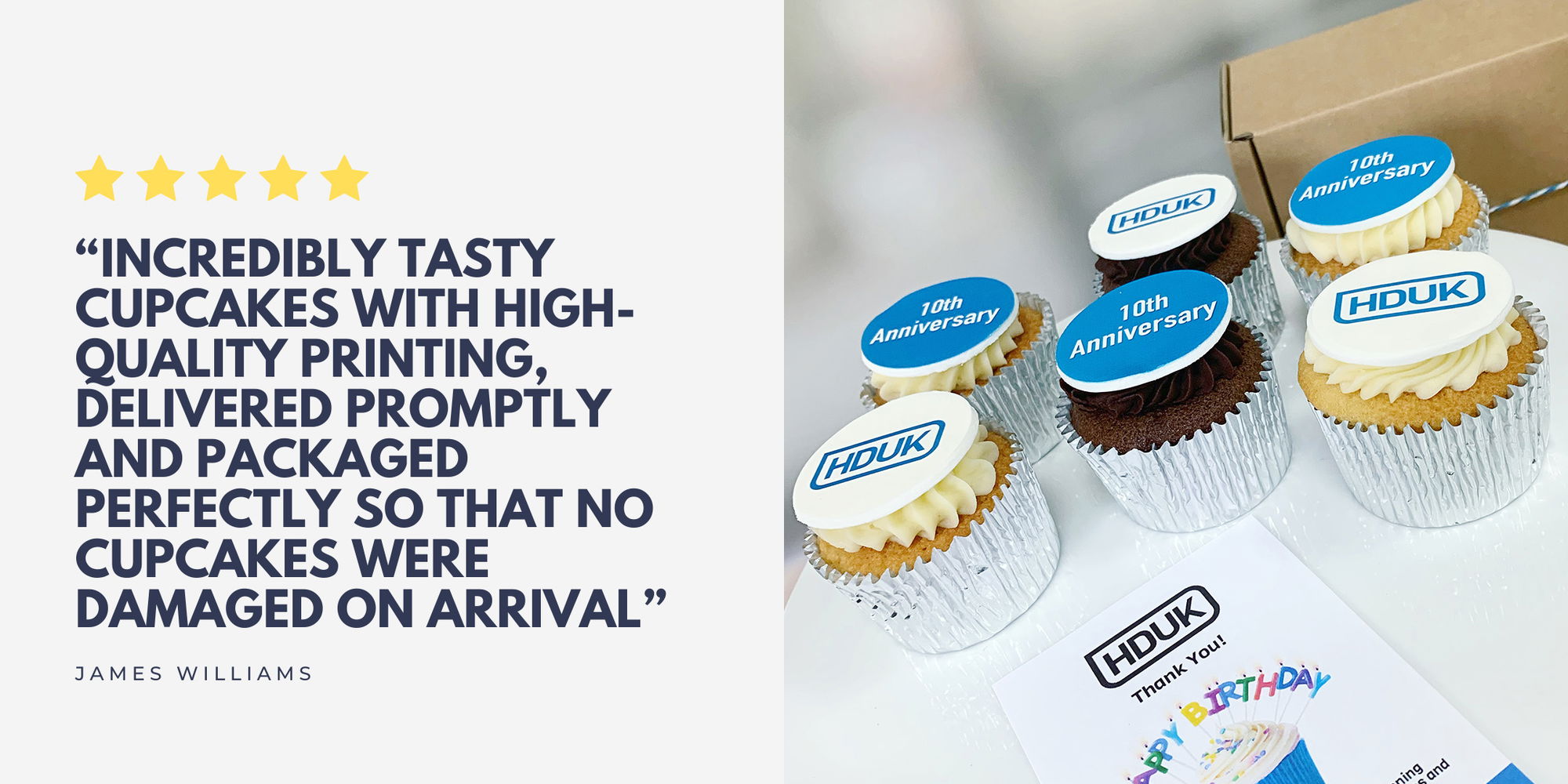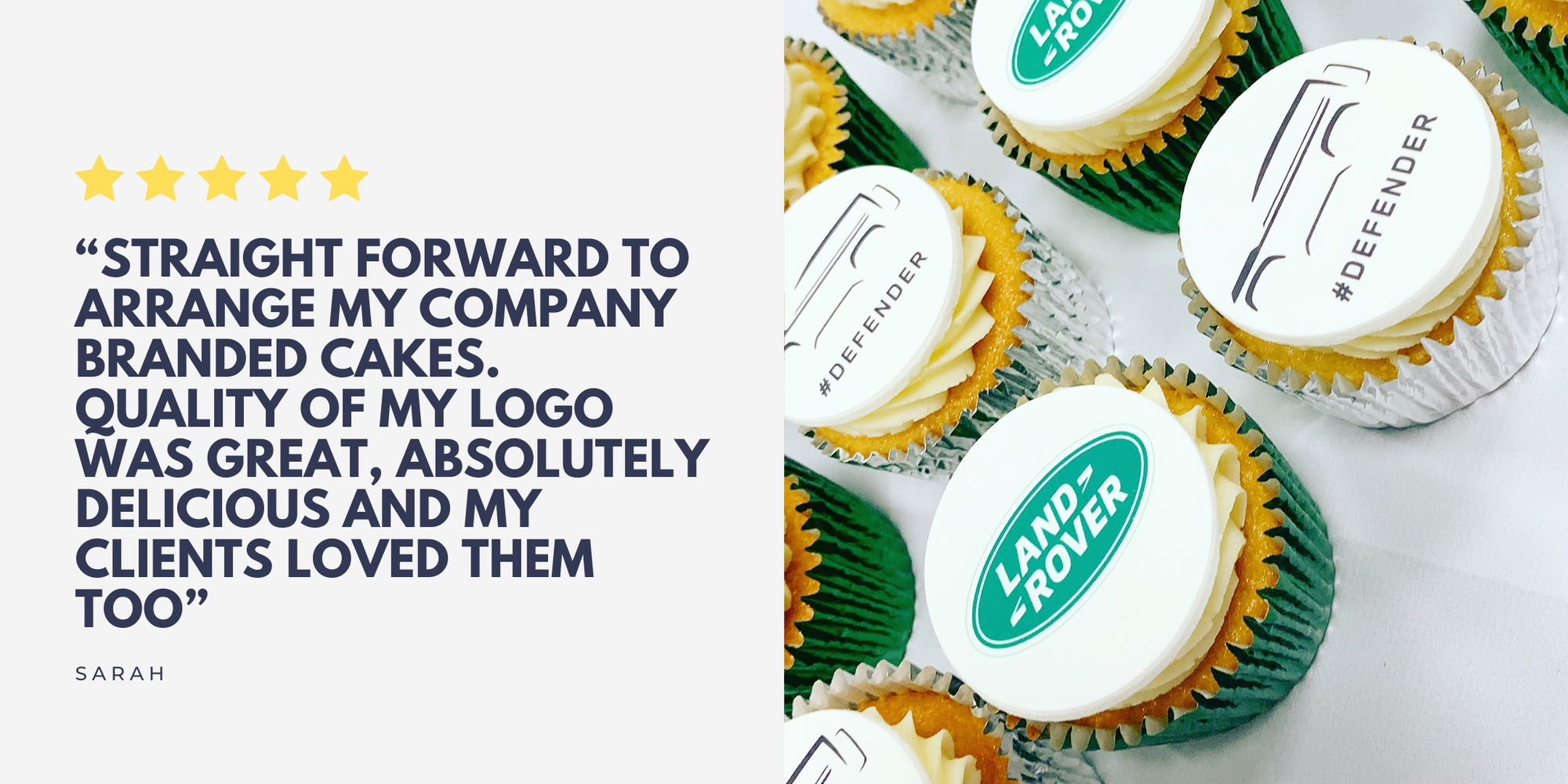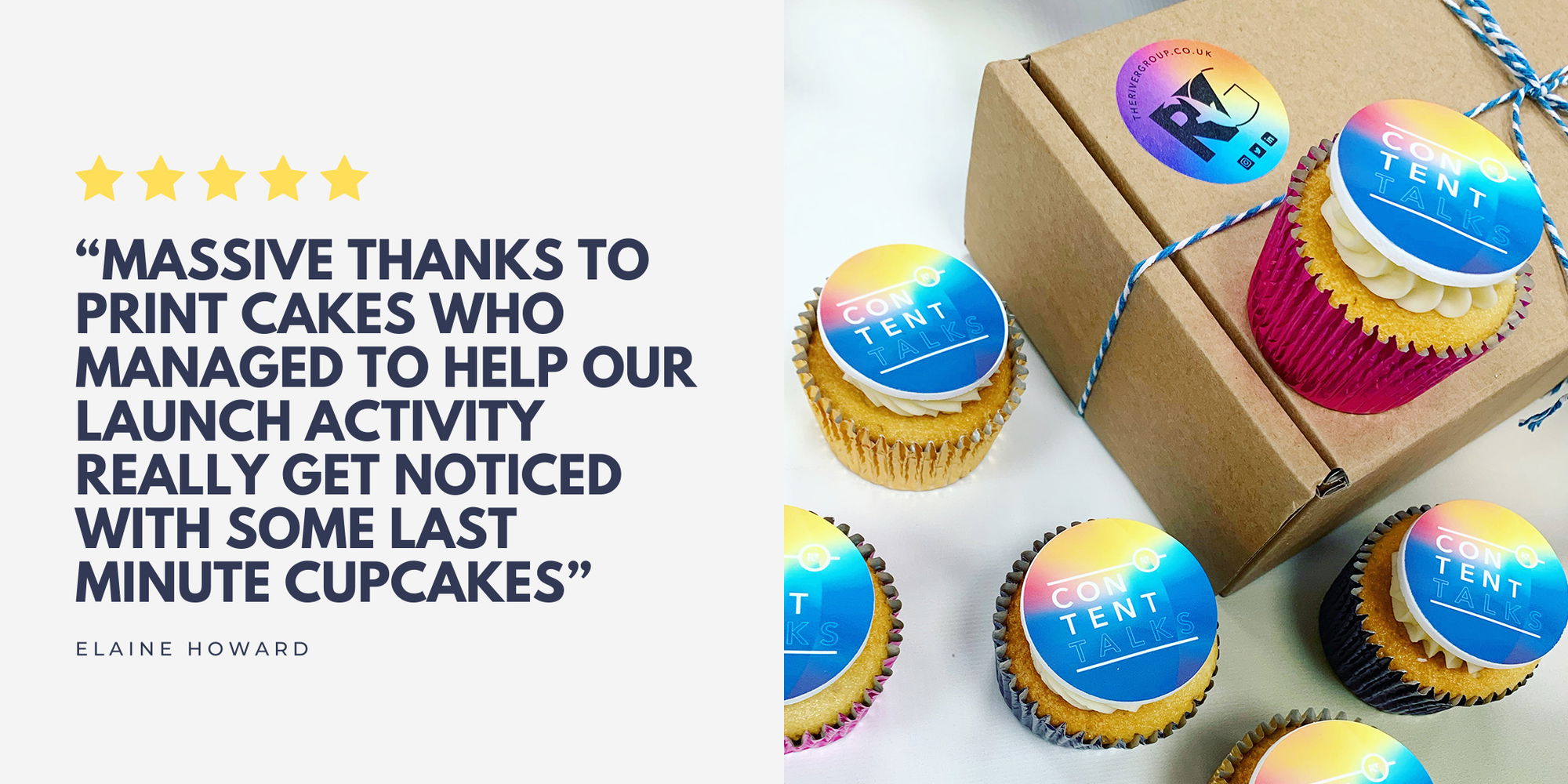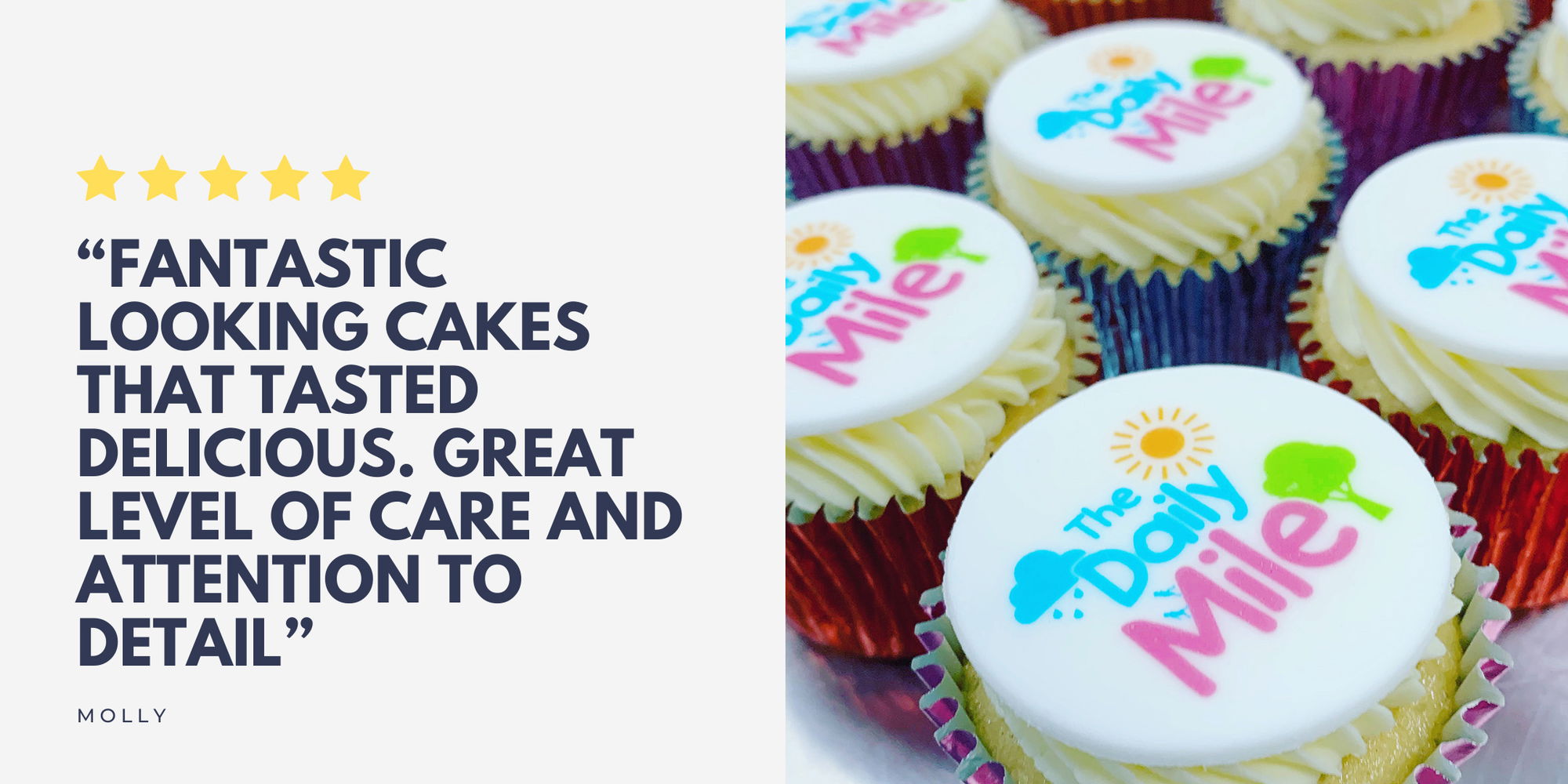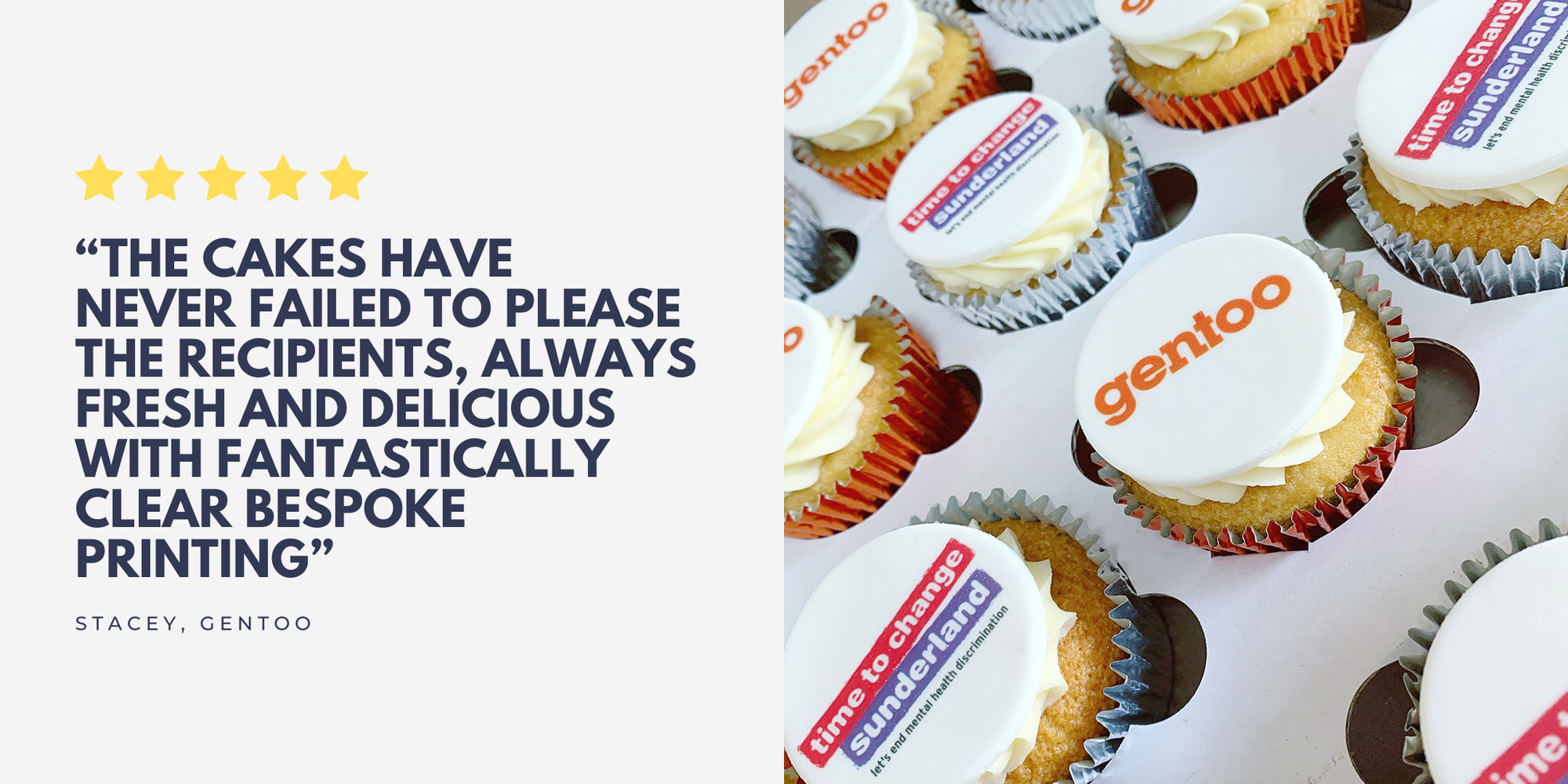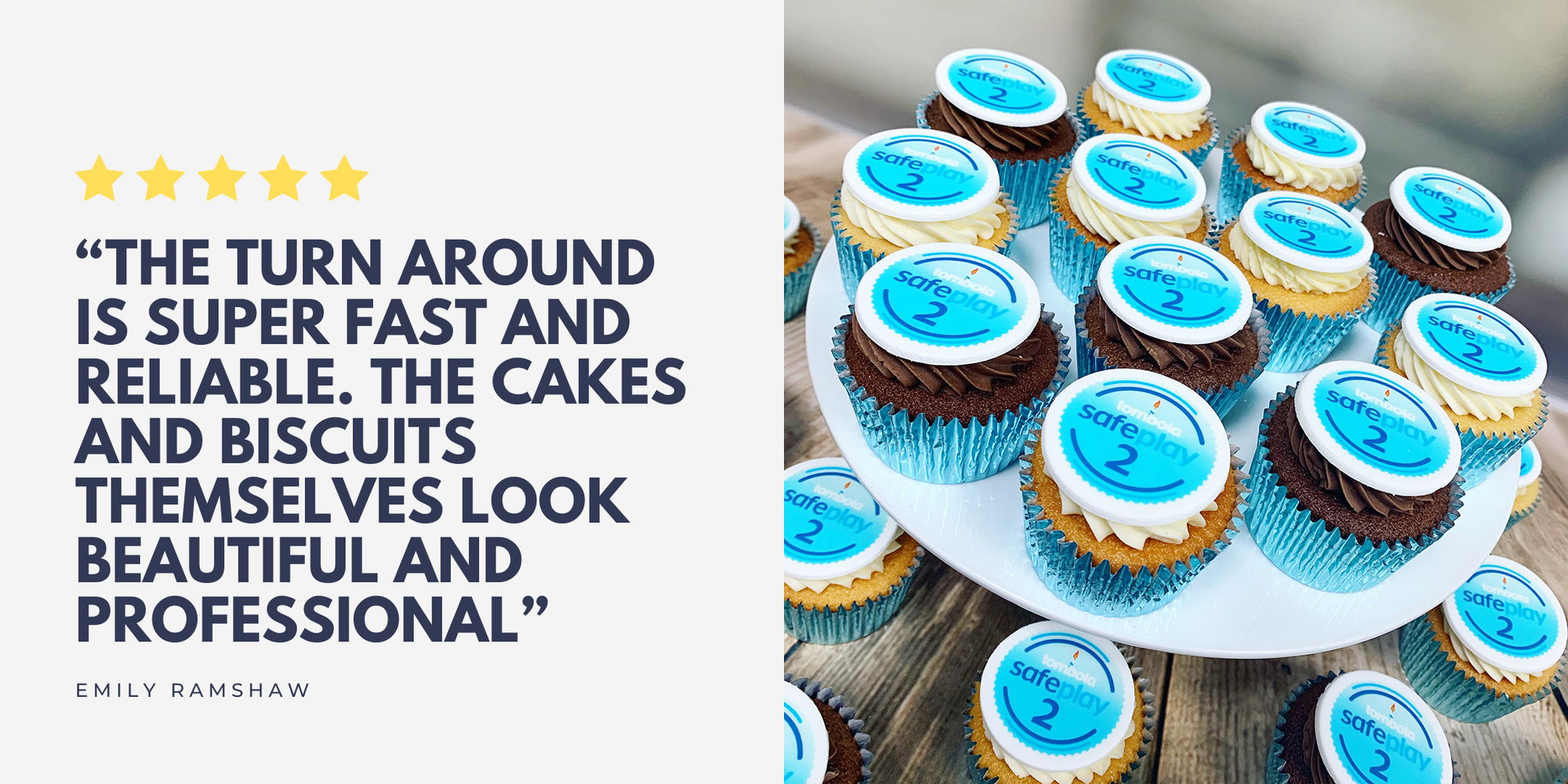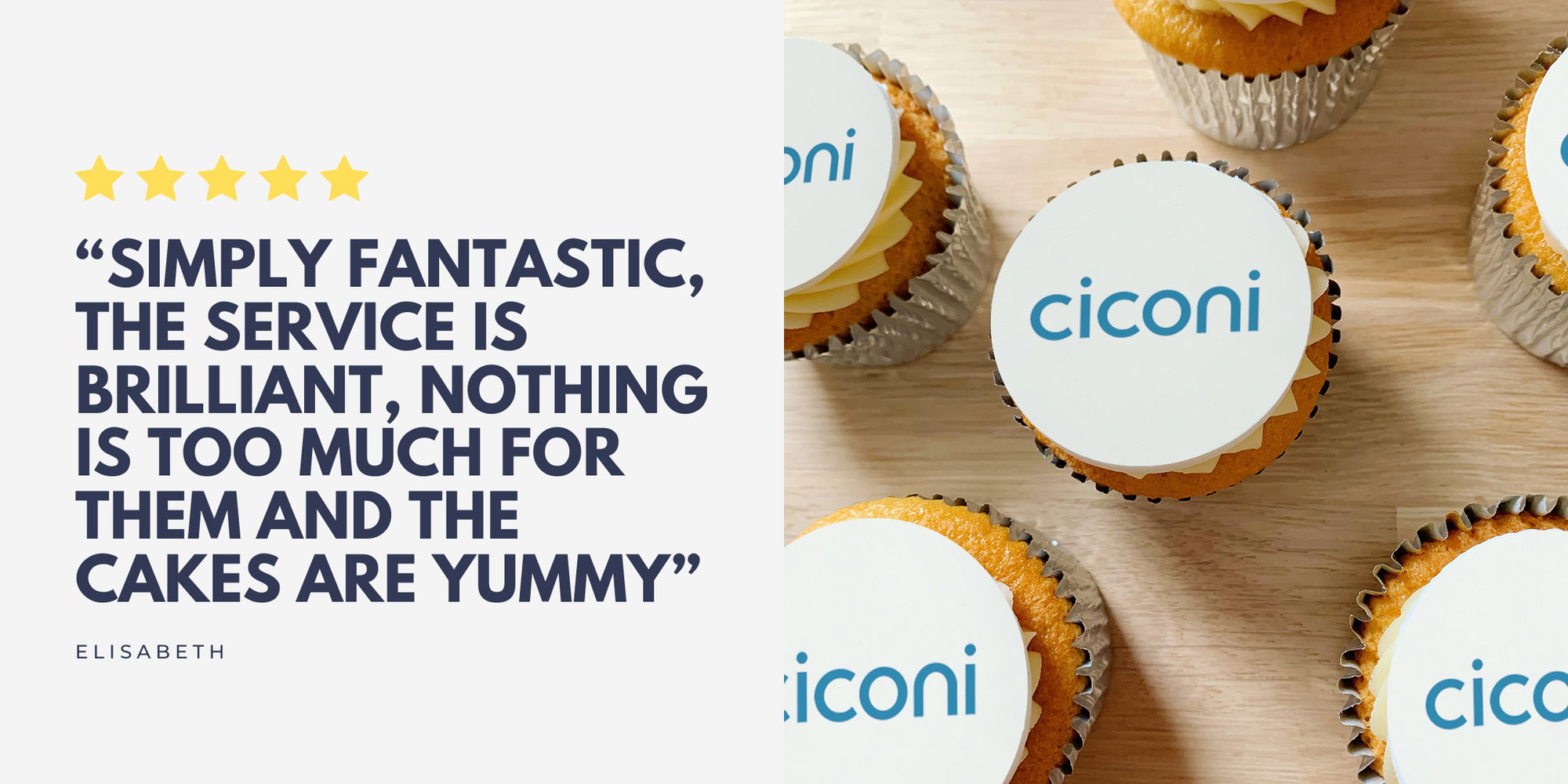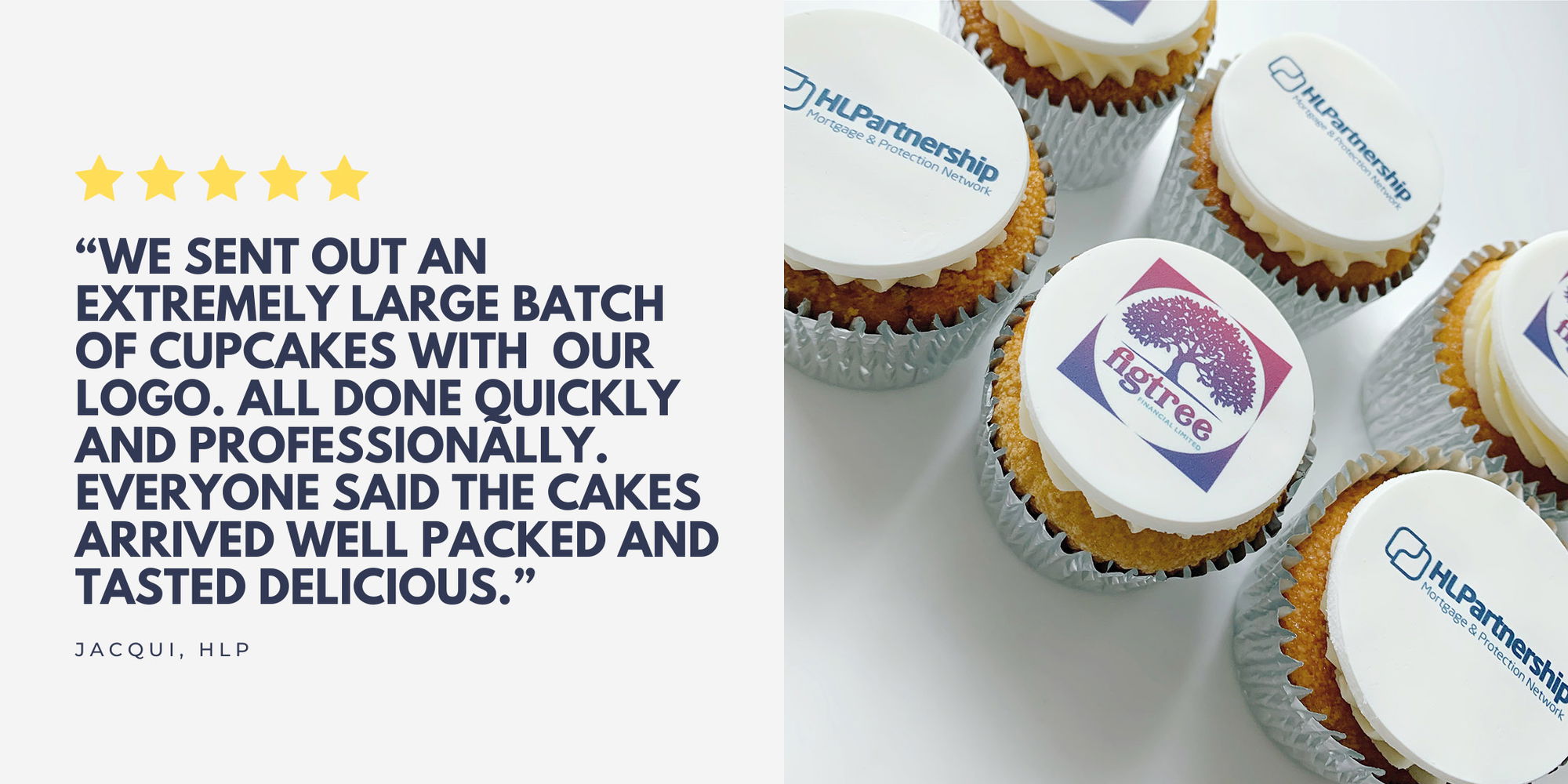 SMALL BUSINESS, BIG HEART
We're a small business that really can deliver. From huge multi-drop campaigns, big launches, to gifts for special clients. No matter the size, we know how important it is to you, which makes it's success our top priority.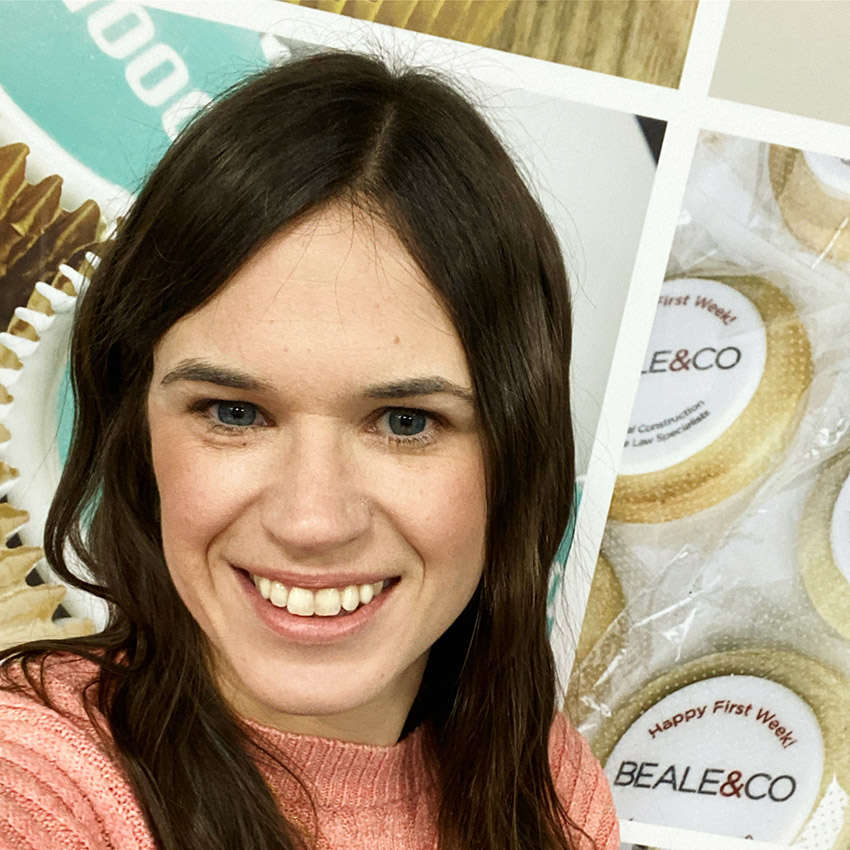 Hassle free process from enquiry to delivery. Friendly team, free art working, fast responses & turn around.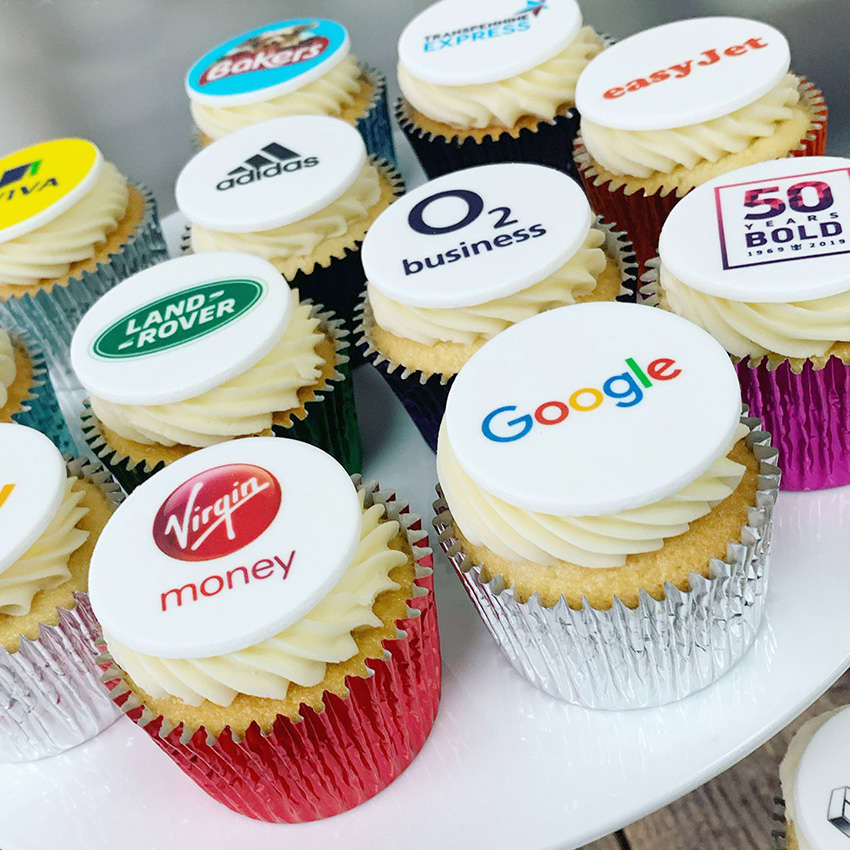 Your clients and colleagues deserve the best. We never scrimp on ingredients and it makes all the difference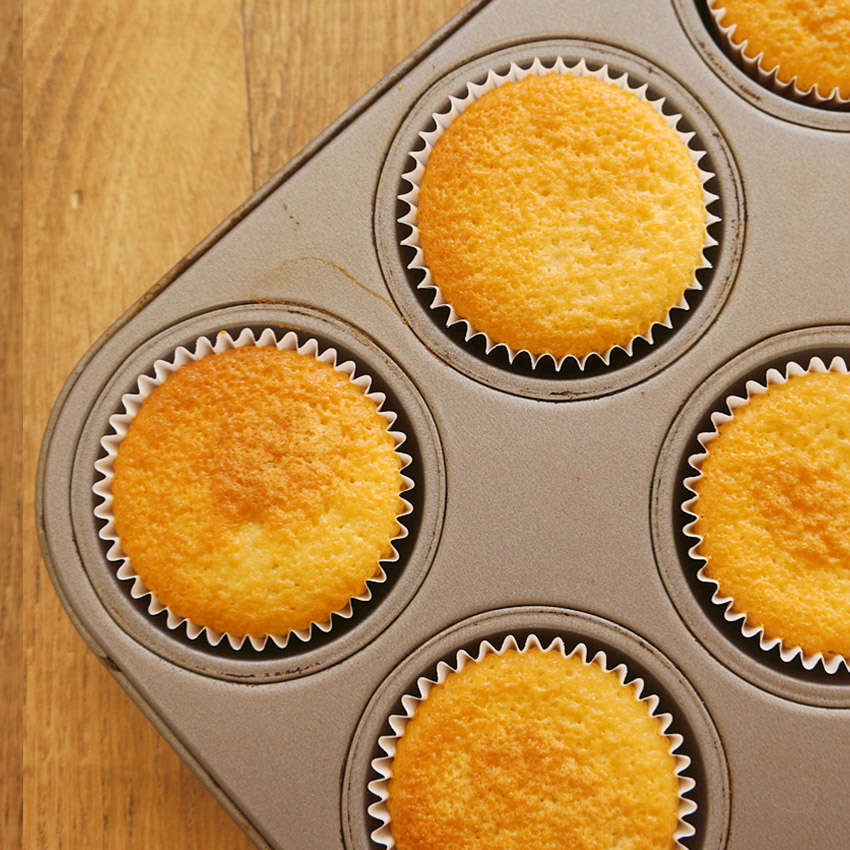 Gluten Free & Vegan logo cupcakes, biscuits & treats. Taste tested, allergy information & no worries.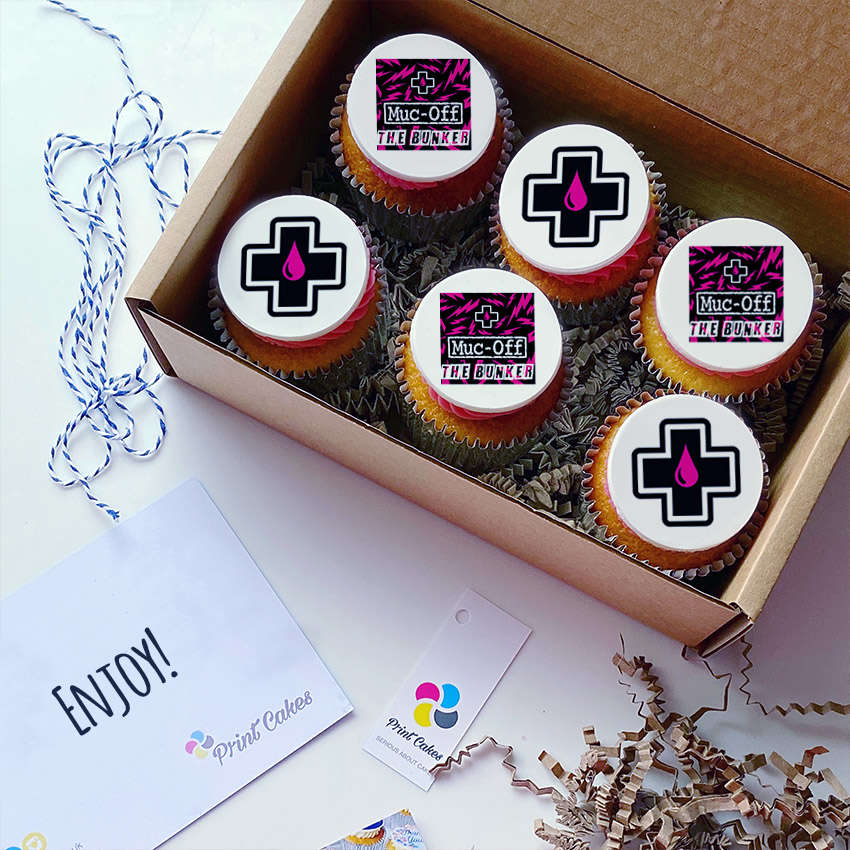 Not a problem. Send a logo cupcake or letterbox treat. Easy ordering, smiles guaranteed.
EPIC CAKES FOR EPIC BRANDS
This is just a selection of some of the big names we regularly work with 👇

SAVE TIME WITH EASY ORDERING
It couldn't be easier to place your logo cupcake order.
Contact our friendly team today, who will make the whole process a piece of cake. 😜
Want to do it yourself right now?
You can create your own logo cupcakes right
here
online and order direct.
hello@printcakes.co.uk
|
0191 340 4872
TREAT YOUR COLLEAGUES
ACROSS THE UK
With our fast turn around you will have your cake (and eat it to!) in no time.
We regularly deliver our logo cupcakes to London, Manchester, Birmingham, Glasgow and everywhere in between.
We are ready to get your cupcakes baked, so chat with us online, drop us an email or give us a call and we will take care of the rest.
Don't forget you can get a quote below or order online too!
hello@printcakes.co.uk
|
0191 340 4872
EASY ONLINE ORDERING
OR GET YOUR LOGO CUPCAKE QUOTE BELOW 👇
100% Happiness Guarantee
Your cupcakes are covered by our 100% Happiness Guarantee. If you're not 100% happy with our products, we guarantee that we'll immediately put it right for you – refunding your order, replacing or issuing you with a Gift Card as appropriate. We will always go the extra mile so you know how important your custom is to us.
We reserve the right to exclude delivery costs.