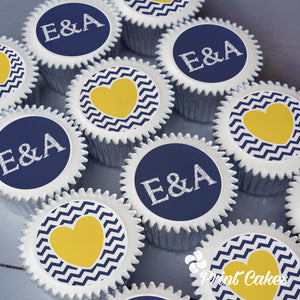 Initial Heart Wedding Cupcakes
Regular price £14.95 Sale
These cupcakes are perfect for engagement & wedding cupcake favours, or as a special gift for the happy couple. The cupcakes have a modern navy and yellow chevron design and are personalised with initials. They will make a personalised gift that will go down a treat. You can also use them as delicious cupcake favours for your guests or as a dessert option for your engagement party or wedding. We can just imagine them on a lovely tiered cupcake stand!
Add the initials of the couple above and we will do the rest.
Our tasty wedding and egagement cupcakes can be sent directly to the lucky couple to give them a surprise, or straight to you. Make sure you add the correct UK delivery address at checkout.
Tip! Don't forget to add a gift note at checkout. It will be printed on a lovely postcard which will let the recipients know exactly who to thank for their amazing cupcake gift box!!
Our cupcakes are sent in extra special packaging to ensure they get to their destination in perfect condition. The cupcakes are baked in foil cases to keep them extra fresh, but they are best eaten within 5 days (which we don't think will be a problem!). Please remove all the packaging when you receive them and don't store them in the fridge. In general you should never store cakes in the fridge unless they have fresh cream. The refrigerator dries cake out and nobody likes a dry cake do they?!
Don't forget you can also Design Your Own personalised cupcakes with our easy to use cupcake tool. Upload photos, messages and images, and add fun designs to create a truly personalised gift.