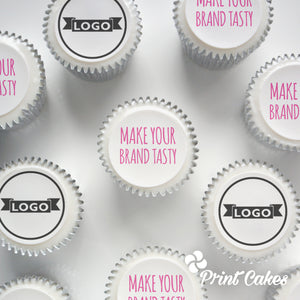 Corporate Logo Cupcakes | Two Designs
Regular price £17.95 Sale
It's quick and easy to create your corporate branded cupcakes! Just follow the 5 simple steps below, or contact us to order by email or phone. If you want only want to add one design try our Corporate Logo Cupcakes | One Design.
If you have any issues, would like more bespoke options, multi location delivery, individual packaging, or are looking to order over 500, please just Get In Touch.
1.
Select the amount of branded cupcakes & case colour
2. Click "CREATE YOUR CUPCAKES!"
3. Use the blue buttons to add your logo, image or text.
4. Click "DESIGN TWO" in the top right & create your second design
5. Review your branded cupcakes & add to basket.
---
Your branded cupcakes can be sent directly to the recipient straight to you. Make sure you add the correct UK delivery address at checkout. We can add a note to the box for you, just fill in the gift note section at checkout.
Need to send to multiple locations? We can help, contact us to order or for a quick quote.
Your branded corporate cupcakes are sent in extra special packaging to ensure they get to their destination in perfect condition. The cupcakes are baked in foil cases to keep them extra fresh, but they are best eaten within 5 days. Please remove all the packaging when you receive them. Store them in a cool dry place - do not store them in the fridge.
Delivery from £3.95